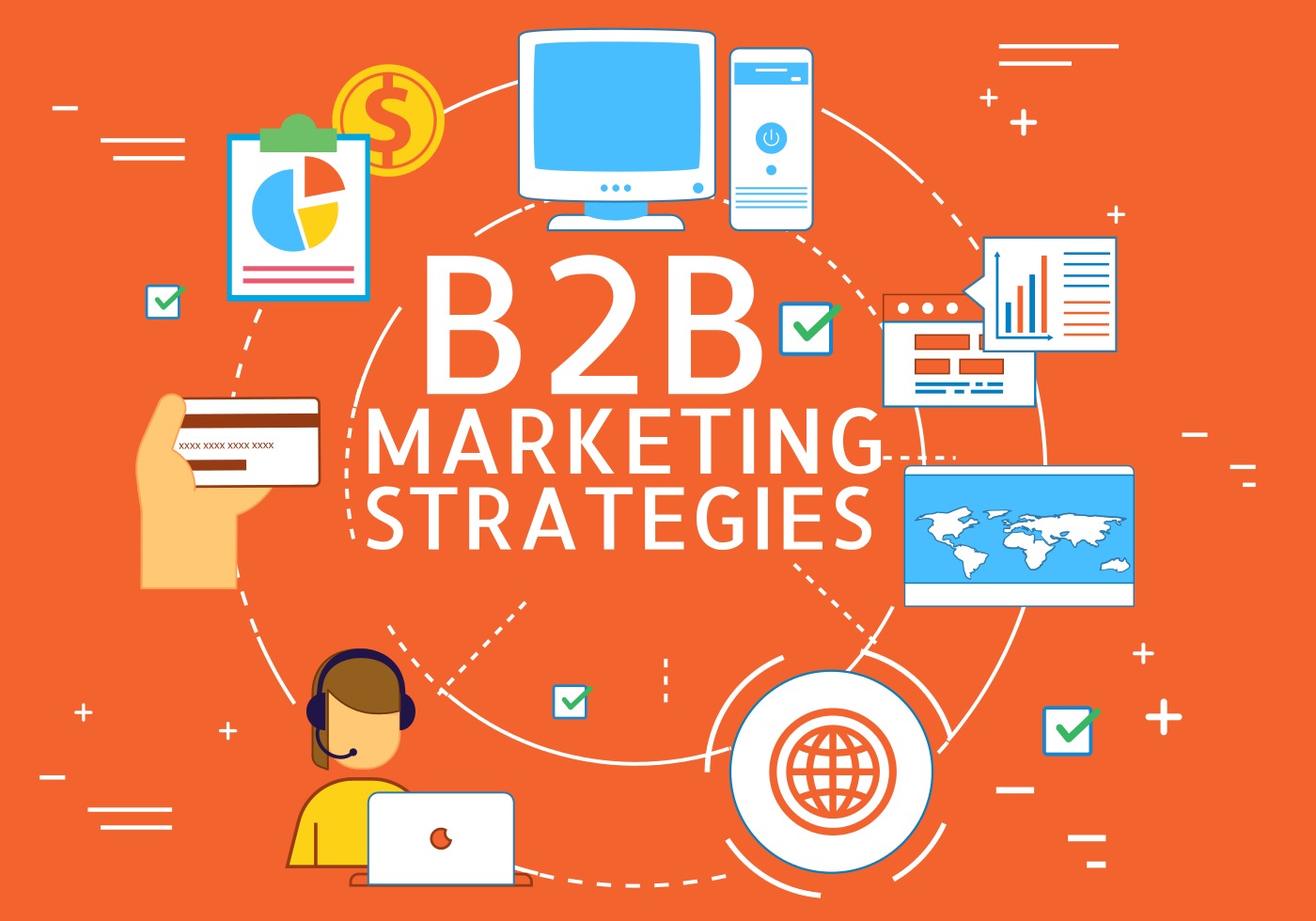 Many B2B companies are doing their marketing wrong.
That is because creating a marketing strategy for a B2B (business to business) is way more complex than B2C (business to consumer).
B2B sales require deliberation from prospects, and more people tend to engage in the buying process. Customers also need to validate the return-on-investment (ROI) of their transactions before making a purchase.
In B2C, customers are mainly interested in the benefits a product or service offers. Most B2C buyers purchase based emotions rather than logic.
Buyers can be anyone in B2C. In B2B, customers are part of a segment of an industry.
Let's talk about B2B.
You need proven B2B marketing strategies to grow your business.
In this article, you'll learn 10 B2B marketing strategies that will help you acquire lots of great clients within a short time.
1. Do a website analysis
Almost half of small business owners still don't have a website.
If your company is still without a website, now is the perfect time to set it up.
But if your business does have a site, you need to conduct an analysis to discover ways you can improve it to gain more clients online.
Run a mobile-friendly test on your website
Google offers a free mobile-friendly tool anyone can use.

Type your site's address into the box, hit "Run Test," and you'll see how your website appears on mobile.
Responsinator is another tool I use to see how my website looks on all mobile devices. With this tool, you'll see how your site looks on Andriod, iPad and iPhone devices – both portrait and landscape.
According to an article published on Google by Fiat Chrysler Automobile's Head of Digital Marketing, Amy Peet McNeil:
"Shoppers today are doing their research on mobile and making decisions before they ever walk onto a dealer lot…"
Mobile is an important part of digital marketing today.
If your website isn't mobile-friendly, you're losing potential sales because prospects can't navigate your site on their smartphones.
Promptly talk about your product or service
Prospects should know what your company does within the first five seconds on your site. Don't delay.
Within my first few seconds on the website of Willmott Dixon, I know they do residential construction and residential development.
Upon landing on Gamma's site, I know what they do and the kinds of clients they serve.
They wasted no time in telling visitors what they do and who they serve.
Your site should do the same thing.
Create a form that captures leads
In B2B, most prospects are not ready to become customers the first time they visit your website.
So, what do you do?
Collect their contact information.
Name. Email. Telephone number. Company name.
When you have their contact details, you can always reach out to them.
The relationship you build through email and phone could lead to sales.
Anyone who gives you their contact information shows they have a keen interest in your product or service.
Your website should have a form that collects visitors' contact details.
For example, Daniel Barnett is a respected employment law barrister. He has appeared in top publications like Forbes, the Guardian and the Sunday Times.
As soon as you land on Barnett's site, you see a form requesting your email address and first name.
By collecting the emails of potential clients, Barnett's has the power to foster rock-solid relationships that increase demand for his services.
Test your site's loading speed
A site's speed is the average time a site takes to load in web browsers.
Internet users expect your site to load within 2 – 3 seconds. Anything above that means you'll start to lose potential clients.
B2B buyers are busy people. They have a lot of things to do. They can't sit and wait for your site to load.
They expect your site to come up immediately after they hit the "enter" button.
Test your site's loading speed for free with GTmetrix.
Google also offers a free tool for checking a site's loading speed on mobile.
If your page speed is long, it means you're losing lots of potential sales.
You need an experienced digital marketer to help you improve your page speed.
2. Perform keyword research
Doing solid keyword research helps your site rank for the right phrases, helping prospects find your business on search engines.
It's not just about getting more people to discover your site on search engines. You need the right visitors who want your product and service and can afford it.
The value of a keyword is determined by how relevant it is to your product or service, or your brand.
For example, if you own an architecture firm in London, the keyword "architecture firms in London" or "London architects" are more precious to your business than the keyword "architects in UK."
Google Keyword Planner is my favourite keyword research tool.
If you want a comprehensive report on each keyword you're interested in, I recommend you use a paid tool like Ahrefs or Moz.
For example, using Ahrefs' Keyword Explorer, I can see that:
the keyword "architecture firms in London" has a keyword difficulty of 9 out of 100,
it receives an average of 200 monthly searches in the U.K. and 320 worldwide,
and 76% of people who search for the keyword click on search results. And more.
You won't get these in-depth details in Google Keyword Planner.
These tools will help you analyse the competition for a keyword to see if you have any chance of ranking high for it on search engines.
The better your keyword research, the more quality leads you'll receive from search.
3. Gather feedback from employees
Your employees probably know more about customers than you do.
They are the bridge between you and customers. Customers interact with employees more. They know what customers are saying and thinking. Therefore, they know a lot of things you don't.
For a B2B company, a single customer can be worth a lot of money.
For some B2B companies, losing a single customer could mean losing 30% of their income. Each client is extremely valuable in B2B.
When you consider how long it takes to win a client, you can't afford to lose any.
Cherishing your employees is the first step to getting any meaningful and useful feedback from them.
Employees should be respected and valued no matter who they are or what they do.
I understand if this doesn't sound like a marketing strategy to you, but not heeding this advice could cost you lots of valuable clients. Your business can't grow when it's losing customers.
Employees should state their ideas without fear of criticism, especially those who deal with customers.
Don't ask for feedback from employees and disregard their ideas. Follow up with employees and let them know their opinions are highly appreciated and being considered.
Collecting and using feedback will lead to continuing improvement in customer satisfaction.
Satisfied customers will stay with your business for a long time.
Improving customer satisfaction increases your retention rate, which in turn, reduces your customer acquisition cost.
4. Get feedback from customers
While employees can tell you what customers are thinking about, you also need reliable mediums to learn straight from patrons.
It's always good to hear or read from the company's clients themselves.
How can you get quality feedback from customers?
Provide a live chat support
You need a fast medium to engage with customers when they are having issues.
Offering a live chat support is the quickest way to collect customers' feedback right there on your website.
For example, Live Chat, a company that sells live chat software uses their own product on the website.
Live chatting is an easy way for customers to talk with your company.
According to an eMarketer survey, 63% of customers who used live chat are more likely to return to the site, and 62% said they may purchase from the site again.
Reach out to customers
This is my favourite way of getting customers' feedback.
If you really want someone to tell you their thoughts about your product and service, you should go talk to them.
It lets them open up to you. They share things they wouldn't discuss through emails, live chats, surveys and social media. They tell you what keeps them up at night.
This strategy has never disappointed any B2B business. In fact, it increases the chance of getting more referrals from loyal customers.
5. Do competitive analysis to learn about your competitors
Competition in B2B is more fierce than decades ago.
Today, competitors have the digital tools to recognise your customers, communicate with them, and poach them from you.
You have to be one step ahead of the competition to ensure that customers have no reason to leave you.
Today B2B buyers are wiser than years ago. They can research on their own before talking to a salesperson.
According to Google, B2B buyers use the internet to research throughout the buying process. And there's a rapid rise of B2B buyers using their smartphones to learn about companies.

You should always stay on your toes in the B2B space.
How do you do that?
By conducting a competitive analysis.
A competitive analysis allows you to know your competitors' strengths and weaknesses.
By recognising competitors' strengths and weaknesses, you can identify tactics that will improve your competitive advantage in the marketplace.
Analyse your top three competitors.
Who are they, and how are they differentiating themselves from others?
What types of products and services do they offer, and are they serving consumers better than you do?
How can consumers differentiate your company from competitors?
What is your biggest competitive advantage?
What marketing strategies are driving their revenue?
Ask yourself these questions and more to learn about the competition.
After answering these questions, you'll know how to distinguish your B2B company from the competition and create a competitive advantage for yourself.
You should always be learning about your competitors. It helps you combat their threats and capitalise on their mistakes.
6. Start listening and engaging on social media
LinkedIn is the social network specifically built for professionals and businesses.
Of course, there are other big social networks like Facebook, Twitter, and Instagram.
But LinkedIn is the best social site for B2B business because it enables you to build key business relationships with prospects.
On LinkedIn, you can target people by location, industry, title, company and other demographics.
LinkedIn is the place entrepreneurs and C-suite executives expect to always engage in a professional manner.
Listen to what employees of companies that may need your product or service are talking about on LinkedIn. Listen to the top bosses too.
Join discussions and engage with people. Let them know who you are and what your company does.
Create a company page for your business on LinkedIn.
Build your profile on the platform.
Interact with people. Connect with prospects. Be an active user on the platform.
Soon, you'll start getting business deals on social media.
7. Conduct A/B testing
In B2B, it's not the number of leads you get that matters. It's the quality of leads.
Strive to generate quality leads that have high chances of converting into customers than hundreds of leads who don't have a strong interest in your product.
How do you improve both the quality and number of leads you get online?
There's no straightforward answer to this question.
What works for a B2B business might not work for you.
This is where A/B testing comes in.
A/B testing removes any doubt from your marketing.
Test every little thing connected to your marketing, and see how it impacts your conversion and revenue.
You should do more of the things that work for your business.
What are the things you should A/B test?
Test visuals on your website. Images versus videos. Videos versus infographics. Illustrations versus images. Etc.
Test your site navigation and design. Change your menu items. One-column versus two-column layout.
Test your call-to-action buttons. "Buy now" versus "purchase." "Check out" versus "Request a demo."
Test your content. Gated content versus ungated content. Text content versus video content.
Test your pricing and shipping. Free-trial versus free demo.
Test Ads. Test the headlines on your AdWords and LinkedIn campaigns.
Test forms. Short forms versus long forms.
Test everything.
The more tests you conduct, the more you learn about customers, and the kind of messages and offers they like.
You can use insights gained from these tests to improve the effectiveness of your marketing campaigns.
8. Audit your customer data
According to Marketscan, a B2B data management company in Chichester, dirty data costs companies 15% of their renewable revenue every year.
Here are a few examples of dirty data:
Incomplete records
Typographical errors.
Out-of-date information.
Duplicate records.
As a B2B, you need accurate data of customers to deliver experiences and services that cater to their unique needs.
You should ensure that each customer's data in your database is accurate.
Inaccurate data can lead to slow response rates, and sometimes zero response.
For example, if you still have an old office address of a client, it could somehow negatively impact your relationship with the client.
Another example is dealing with a former employee of a company that uses your service, not knowing the employee no longer works there. That could damage the relationship you have with a key client.
Another example is emailing a client who has closed business. That means wasting your valuable marketing budget and time.
To avoid silly mistakes, you should ensure that customers' details are correct.
Audit customer data, at least, every three months. That is four times a year.
9. Invest in video marketing
Seventy percent of B2B buyers and researchers are watching videos throughout their path to purchase, according to Google.
Nearly half of these researchers spend 30+ minutes watching videos during the buying process.
That means you should produce more video content.
Video marketing doesn't only raise awareness, it also increases conversions.
According to Demand Metric, 70% of B2B marketers say video is the most effective medium for driving conversions.
Entrepreneurs and C-suite executives are too busy to read text content online. Text content takes a lot of time to consume.
Video is easier and faster to watch online.
That is why top B2B companies like Cisco, Intel, and IBM invest in video marketing.
10. Extend your sales funnel
A sales funnel (also called customer journey) is the process prospects go through before becoming customers.
B2B sales process is more complicated and longer than B2C.
In B2C, a prospect can become customer within a few minutes of discovering a product. That is almost impossible in B2B.
In B2B, products and services are generally more expensive. And in most cases, it requires the approval of more than an individual to seal the deal.
You can't offer little information about your product and expect to win a sale in B2B.
You need to educate prospects. Sometimes, this could take more than 30 days.
Help prospects know as much information as they need about your product and service.
Be willing to build a relationship with them for a long time. Sometimes, this could mean exchanging more than fifty emails.
Extend your sales funnel to a reasonable period of time that helps people feel confident in your product or service.
Do you need an experienced and qualified marketing agency to take charge of your marketing?
Discover
The 12 Marketing Secrets of Fast-Growth Companies
Find out what they do to achieve outrageous business success