Powerful Gmail Tips and Tricks
You're a business owner, and you don't have much time.
You've got meetings to attend, a new product to launch and a business to grow.
Your calendar is full and you check your e-mail in the morning to find this: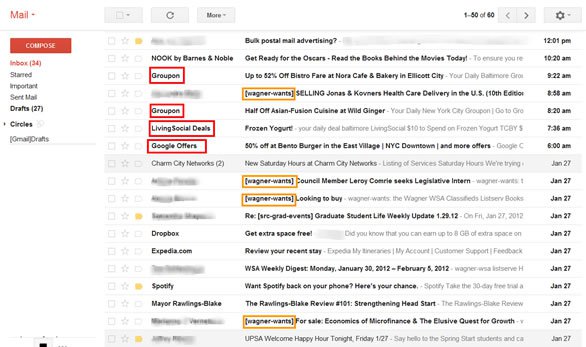 How on earth are you going to get through that?
Email is a time suck – fact!
But you can't get away from it.
You use it to build relationships with clients, close sales, hire people, manage teams and communicate with stakeholders in your business.
How can you achieve your business goals this year, if you're slaving away inside your messy inbox?
If you're one of Gmail's 500 million users, this blog post is for you. This article will teach you 10 powerful gmail tips and tricks to transform your inbox into a business asset.
1. Cut Your Time in Half with Keyboard Shortcuts
Gmail is powerful. However, its power was created to work for you, not against you.
If you let Gmail be, it can be a multi-headed monster waiting to suck your time out.
Master the keyboard shortcuts for the functions you need the most. Here are some of Gmail's most essential shortcuts for repetitive tasks.
When you're composing emails, you may also spend a lot of time using Gmail's formatting options, to underline, bold and colour text.
If you want to go completely mouse-free, you can turn on the full set of commands here, or even customize and create your own shortcuts to suit your needs.
2. Build Authority with Wisestamp's Super Signatures
Think of your email signature as a digital business card which you send out every time you communicate with potential customers, clients or partners.
Wisestamp is an email app created to enhance the look of every email you send out. It has an easy drag and drop, visual WYSIWYG composer.
Take advantage of creating a signature which acts as an effective marketing tool for your business. Use it to promote your website, social media accounts or any awards you have achieved.
3. Use Gmail as Your To-Do List
Little do many know, Gmail can act as a personal to-do list, right out of the box.
This is one of our favourite Gmail tips.
Any emails you receive which needs an action, can be added as a task within Gmail. Better yet, if the task has a deadline or needs a reminder, you can sync it directly to Google Calendar so you'll never forget.
Gmail's "add to tasks" option is a little obscure to find, and may not even be visible depending on which settings you have enabled on your account.
Enable Gmail Add To Tasks
Via Dashboard
1. Open Gmail and click the dropdown menu on the left hand side.
Via Individual Emails
1. Open an email you wish to add as a task.
2. Click on the 'More' button at the top.
3. Select 'Add To Tasks'.
The cool part about using Gmail as a to-do list, is that it pulls the entire email thread associated with the task, so you'll never be hunting around for emails you cannot find.
For another great tool to make Gmail to do lists even speedier, download the Drag Gmail extension tool.
4. Add Clarity to Your Inbox with Stars and Labels
If you have a lot of incoming mail, you don't want it to pile up in your inbox.
This simple Gmail trick can simplify your inbox so you can action the most important items without delay.
Starring
Gmail's starring system is used to mark emails in order of importance, so you can deal with them later or delegate them to a member of your team.
1. To add a star to an email, click the star icon on the left hand side of the email.
2. If you're viewing an email thread (conversation), the star icon is located on the right hand side of the message.
Gmail Labels and Filters
Labels are a great way to put emails into categories that are easy to manage and search for.
Labels evolve as you do while helping you find the workflow that works best for you.
Be sure to use labels in full colour, so you can easily scan your inbox to find the category you're looking for. Custom colours can also be added if you run out of colours in the palette Gmail provides.
How to add labels to emails
1. Select the email you wish to label
2. Click on the label icon at the top menu bar of your email
3. Select which label you wish to add to this email
Let's say you have invoices you need to pay, whether that's for web hosting, tools or services for your business, create a label called 'Invoices to Pay'. Each time you receive an email with an invoice you need to pay, you can just select the relevant label, to add it to that category.
This will save you a lot of time right?
Not really.
Doing this for every invoice you receive will just waste your time.
You need to use Gmail's labelling and filtering system, to do all the heavy lifting for you.
Applying labels in Gmail makes it easier to find them in the future, which helps save you time and boost your productivity.
5. Combine Labels with Filters To Create A Semi-Automated Email Workflow
If you have web design project you're managing for a client, you can create a label called "Web Design – New Project", and have all incoming emails associated with this project to be automatically moved from your inbox into the label, without lifting a finger.
This is the power of email filtering.
Here's how to set up this workflow:
1. Create and name a new label
2. Select an email and click the dropdown menu on the right hand side.
3. Select 'filter messages like this'.
4. Select 'create filter with this search'
5. Check the 'Skip the inbox (Archive it)' option
6. Check the 'Apply the label' option, and choose the label you wish emails from this email address shall filter into
7. Check the 'Never send it to Spam' option.
8. Check the 'Always mark it as important' option.
9. Check the 'also apply filter to # matching conversations'.
10. Press 'Create filter'.
You can also setup a workflow for your attachments so that they filter out to a folder and category. Just check the "has attachment" box when setting up your filters.
6. Make Your Inbox an Efficient Machine with Custom Workflows
We love the way Andreas Klinger has been using Gmail for a long time.
Take a quick look at the way he designed his workflow around email.
Basically, your Gmail looks like this when you do it right. (thanks to Zapier for this illustration)
Using stars, labels, filters, and multiple inboxes (Gmail Labs feature), you'll be able to turn your Gmail Inbox into an efficient workflow core rather than a time sucking parasite.
With multiple inboxes, you can create custom inboxes for what matters to you most. Using combinations of individual Gmail hacks, search functions, automations, filtering, and integrations that suit your workflow, you'll be able to turn Gmail into an efficient task management tool.
Just like that.
7. Use Hashtags for Easier Searching
On Twitter, hashtags are used to identify important keywords, identifiers, trends, and more.
Click on a hashtag while you are on Twitter and you'd see all tweets related to the hashtag and marked as such.
Gmail's ultra-powerful search also allows you to use hashtags in conjunction with your evolving labeling system.
Mihir Patkar of Makeuseof.com recommends using invisible hashtags below the body of emails you're composing to give Gmail a stronger cue to group such emails together.
It is best to use hashtags on Gmail, the same way you're used to on Twitter – achieving a granular, threadlike look for all emails related to the hashtag.
Plus, you can use hashtags to create and group together lists, notes, bookmarked links, chats, videos, and a lot more.
8. Stretch Gmail Beyond Email with These Power Tools
Zapier and IFTTT are perfect tools for the Gmail power user.
They allow you create automated workflows and processes by connecting several apps together to do the tasks you don't have the time to do.
The only limitation with these tools is your imagination.
Take a look at some examples below to see how Zapier or IFTTT can work for your business.
• Your recruiting team posts a job on Indeed.com and an applicant applies for the job. You receive an email from your inbox but you want to send it as a task to your hiring manager's board on Trello (task management software).
• You receive a brief, a proposal, or a document for you to consider, but you'd like an easy way to automatically download or save these attachments in their original file format on Google Drive.
• You create a survey on Survey monkey, which people are filling out, however you'd like a way to send all email confirmations to a member of your team once each survey has been filled out.
Zapier and IFTTT can do all this automatically for you, plus much more.
There are hundreds of recipes and zaps you can create for your needs. The community is also vibrant, creating new recipes daily for people who have specific needs.
Make Gmail Your Sales Assistant with Sidekick and Cirrus Insight
Who knew that an email service would have enough power to turn itself into a sales machine for your business?
You now know.
Thanks to Gmail's popularity, some of the world's best tools integrate with it to give you the opportunity to keep tabs on what's happening in your business and who is making it happen.
9. Sidekick from HubSpot
Wouldn't you like it if you know what happens to your email once it leaves your inbox?
Sidekick from HubSpot is an app for Gmail which notifies you when emails you have sent to prospective customers or clients have been opened.
You can also use it to schedule emails to be sent later, set reminders for important meetings, manage vendors, pull up anyone's profile within your inbox and to understand the best times your email is opened, plus much more.
Also, it's one of the best tools to retain new clients and pitch to new ones. It helps organise your daily call schedules, and even your to-do lists.
Sidekick confirms when your emails are read; it lets you know who read your email, and who hasn't. It gives you "actionable intelligence" by letting you know how your clients, vendors, staff, and everyone important to you interact with your communication.
Using Sidekick with Rapportive, you can see the profiles of all your clients, customers and partners by pulling their key information, such as their first name, last name, current job title and/or business name directly from LinkedIn.
10. Cirrus Insights for SalesForce Integration
Sales don't happen when you just show up.
Usually, there are conversations that lead to sales. For growing companies, all these conversations are critical.
As growing businesses swear by Salesforce and because Gmail ends up being where most conversations begin, it'd be nice to bring all that data straight to your primary Gmail Inbox that you use almost every day while staying synced with Salesforce.
This is the promise Cirrus Insight delivers on.
Whether the conversations started on Gmail or as a direct import from a contact on Salesforce, you can sync your emails to any lead, contact, account, opportunity or campaign on Salesforce for easy tracking.
And, you also get the following:
1. Track emails with real-time notifications.
2. Bring Google Calendar, Contacts, and Gmail together with Salesforce
3. Create leads with Contact Capture.
4. If you use any other third-party Salesforce apps, bring it all to Gmail.
5. Use Salesforce templates within Gmail.
There are many more apps that you could consider to make yourself a ninja Gmail user.
Find add-ons for everything, Including Gmail
Thanks to the popularity of Gmail, there are plenty of add-ons to spruce up not just your Gmail usage but also the entire subset of Google Apps, third-party apps, and tons of Google or Gmail plugins.
Here are a few popular Add-ons for Gmail itself:
• CharlieApp: The "rapportive" for making your meetings impactful. The app is your executive assistant that briefs you before meetings.
• Connect6: It's the quickest, most reliable way to find the details of people you want to reach out to.
• Sanebox: A Gmail app you can use to simplify this process which helps to avoid loading your Gmail with all those attachments, as they are known to slowdown Gmail and eat up lots of space.
• Streak: A CRM built for Gmail users.
The idea is to spend less time on Gmail as email and more on it as a central hub for productivity and getting work done.
You could take notes within Gmail with Notes for Gmail, add special plugins made by your CRM (if any), and use tools like YesWare for tracking prospects, and to build and maintain relationships with key people in your business.
The tools, add-ons, shortcuts, hacks, and tips you use depend on your individual use case or your business needs.
The point, however, is this: Gmail doesn't have to be a 800-pound gorilla.
It could be a nimble hummingbird if you want it to.
Which of these tips have you tried? Do you have any Gmail tips and tricks that you could share with us?
Discover
The 12 Marketing Secrets of Fast-Growth Companies
Find out what they do to achieve outrageous business success