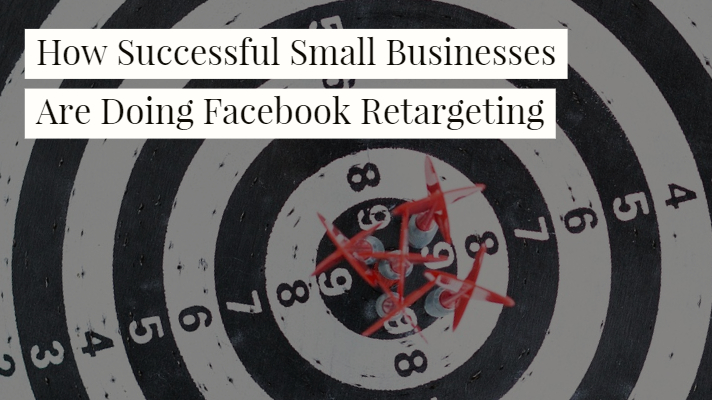 Only a few people will convert the first time they visit your website. Most prospects won't convert on their first visits because they haven't decided to buy from you.
Consumers experience fear, uncertainty, and doubt when they come across marketers, merchants or sellers they haven't seen before. And if you're in a highly competitive space, it means the decision-making process would be long and more stressful for prospects. Potential customers may feel overwhelmed with too many options available to them.
Fierce competition makes it difficult for prospects to buy on their first visits. You need to make visitors return to your site to learn more about your company and product.
Facebook retargeting is one of the most effective ways to get repeat visits on your site. Lots of small businesses are driving repeat visits through Facebook retargeting, and it helps them increase sales.
Myfix Cycles is a bike retailer based in Montreal, Canada. For just $199.07, the company generated $3,043.20 in revenue with their Facebook retargeting campaign. That's a return of 1,529% or nearly $15 for every $1 spent.
What is Facebook Retargeting?
Here's how Facebook retargeting works:
Facebook gives you a code to paste on your site.
The code helps Facebook detects when its users visit any page on your site.
You can target these Facebook users with relevant ads.
If you're an active Facebook user and visits lots of sites, you've likely seen some Facebook retargeting ads.
For instance, you visited the site of a fashion store in the morning to get more details about a wristwatch you like. When you visited Facebook in the evening, you saw an advertisement about the same wristwatch from the merchant.
Below is a screenshot of a Facebook retargeting ad by Expedia.
Why Should You Run a Facebook Retargeting Campaign?
Facebook has over 2 billion monthly active users. There's a great chance that most of your visitors have Facebook accounts and are active on the platform. Your ability to retarget potential customers on Facebook means you can take them back to your site.
The Facebook retargeting platform lets you offer prospects something they won't refuse. It gives you complete freedom to select who you want to see your ads and when you want them to see it.
Facebook lets you retarget prospects who visited specific pages on your site.
How to Set Up a Facebook Retargeting Campaign
Follow these simple steps to create a Facebook retargeting campaign for your small business.
Step 1: Get and Install Your Facebook Pixel
Facebook Pixel is the code Facebook will give you to install on your site. Without this code, there's no way for Facebook to know which of its users have visited your site.
It's easy and quick to get your Facebook Pixel.
Go to www.facebook.com/business.
On the homepage, click "Create an Ad."
Click the "Ads Manager" tab at the top left side of your screen if you're on a computer. (It's faster and easier to use the Facebook Ads Manager on a computer than on a mobile device).
Click "Pixels," which is under "Measure & report."
Facebook will take you to the "Audiences" page.
Scroll a little down and click "Create a Pixel."
Type the name you want to call your Facebook Pixel and input your website address.
The next step is to install your Pixel. You can manually install it by yourself or email instructions to your web developer from inside Facebook.
The manual installation process is easy if you know a little bit of HTML.
Find the <head> tag in your HTML. Copy and paste your Pixel before the </head> closing tag. Facebook gave a perfect example in the below screenshot.
Click "Done" to complete this process.
Step 2: Create a Custom Audience
It's time to create a custom audience to target.
A custom audience is a specific group of people who have performed an action or visited a page on your site. You can create different custom audiences. Let's create one custom audience for this example.
Go to "Ads Manager" and click "Audiences," which you'll find under "Assets."
Then click "Create a Custom Audience."
Select "Website Traffic."
You'll be creating a custom audience using your newly installed Facebook Pixel.
I like to target people who meet "ALL" the following criteria.
Facebook allows you to retarget "All website visitors" in "x" days. I like to retarget people in the past 30 days. I highly recommend you start with 14 days.
You can also retarget people who visited a specific page(s) and spent a certain amount of time on your site.
Give your audience a name and click "Create Audience."
You should see a message that tells you the process is complete. Click "Done."
Step 3: Create a Retargeting Ad
Go back to "Ads Manager" and click "Create Ad."
Give your retargeting campaign, ad set (or ad group) and ad some nice names.
You can have multiple ads in one ad group. And you can have multiple ad groups in one retargeting campaign.
When creating your ad, you'll see a section called "Audience." Go to "Custom Audience" and add the audience you created from your Facebook Pixel.
That's how to create retargeting ads.
Target Recent Visitors
Someone who visited your site 90 days ago may no longer need your product or service. They may have patronized one of your competitors.
For example, Karen Brody is a relationship coach for men. Men who visited her site recently are probably going through some tough times in their relationships. They need her service. If she retargets them months later, they may no longer need her service. That's why it's essential you target recent visitors.
When you target recent visitors, it makes your Facebook ads more effective. Their visits to your site are still fresh in their memories.
I recommend you target visitors in the past 14 days. And target frequent visitors in the past 30 days.
Personalise Your Ads
Personalising your ads is essential for any business that wants to compete online. Prospects expect to see ads that are relevant to their interests, goals, and needs.
Of course, you're already doing personalisation by running Facebook targetted ads. But you need to do more than just that.
Create separate ad copies that target visitors based on their location. Your ad copy for people who live in London could be different from visitors who live in Manchester.
You can also create different ad copies that target different age groups, gender, behaviours, interests, and demographics.
The more you personalize, the more effective your ads become.
Personalisation is the key to getting anyone's attention on Facebook.
Exclude Current Customers
Except you're selling new products or services, it doesn't make sense to target your current customers. Current customers are loyal to your business.
Some current customers may be visiting your site, which is normal. Facebook allows you to exclude them from seeing your ads.
Click "Exclude" under "Audience" when creating your ad.
Click "Create New" and select "Custom Audience."
Then click "Customer File."
Right here, you'll be able to upload your customers' details on Facebook. You can upload your customers' emails, phone numbers, first and last names and more.
The more details you upload, the easier it is for Facebook to recognize your customers on the platform and exclude them from seeing your retargeting ads.
Optimise Your Landing Pages
Landing pages are the pages visitors are directed to after clicking your Facebook retargeting ad.
An ugly landing page won't convert visitors. Therefore, ensure that the design of your landing page is clean and organised. It should only contain essential information you want returning visitors to see.
Use your headline to convey the value of your offer. The headline should be catchy.
The landing page should have some trust signals. Trust signals help visitors trust you. They make visitors want to buy from you.
Some examples of trust signals are customer testimonials, publications you've appeared, and the logos of awards you've received.
For example, when you visit the homepage of Grow, you'll see the below trust signals.
Lots of small businesses are using the above tips to make more sales. By implementing the above tips, you'll be able to increase sales within a short time.
How are you using Facebook retargeting ads to grow your business?
Share your thoughts with me in the comment section below.
Discover
The 12 Marketing Secrets of Fast-Growth Companies
Find out what they do to achieve outrageous business success